What is anti-fatigue mat?
The anti-fatigue floor mat is a kind of rubber mat to reduce fatigue when we are long-time-standing on the hard floor.The anti-fatigue mats are most made of rubber material and antistatic material or others;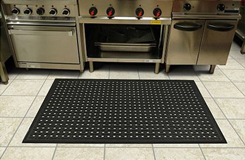 Everyone can be tired of standing all day,usually we can feel throbbing feet, aching legs, and nearly unbearable pain. Anti fatigue pads are usually used to reduce foot and lower extremity diseases.
Why use rubber to make anti-fatigue mat
In order to obtain a good surface fatigue resistance,The producers have to use the elastic and supple material,It must provide more and bettet support than the current hard floor. And the rubber is the normal natural elastic material to be used to make fatigue pad,as the rubber is a special type of polymer called elastomer and a kind macromolecule that can be stretched to at least twice its original length and restored to its original shape.and aolso rubber is a plasticity and machinability material, it can be used to produce foams, harder surfaces, and even softer and cushioning options.
Where are the anti-fatigue used for?
1. Industrial workshop,
2. Food service room,
3. Clean rooms,
4. Retail room,
5. Salons,
6. Labs,
7. pharmacies
All the rooms and areas need rubber matting increased worker comfort and productivity.
Who can product the rubber mats
CS Rubber Products Co.ltd can produce custom anti fatigue mats according to your request or drawing.We can make the anti-fatigue mats in several styles, surfaces and thicknesses and priced competitively to meet your request.If you are looking for the manufaturer,please feel free to contact us.