The rubber sandwich mounts are also called rectangular mountings,with rubber molded between two metal plates and with holes or threads at each end for contacting other parts. In order to increase the load capacity on shear or compress,some mounts have incorporate steel interleaves.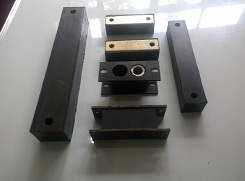 The sandwich mounts are used to protect equipments from vibration and reduce noise in wide range of applications and industries.you can find the mounts in equipments of all size as the mounts can be designed a wide variety of styles and dimensions
CS Rubber Products Co.,ltd can provide natural rubber, neoprene rubber and other specially compounds for the sandwich mounts according to customers' request.we can do the products with long service life with these durable material and our experienced staff.
Features
:
Moulded in first grade natural rubber or neoprene rubber or others.
Steel plates which are etch primed on external surfaces.
The mounts provide a high load capacity at a low cost
Can be loaded in compression, shear or a combination of both by fitting at an angle
Typical Applications
:
Lift Head Gear.
Engine Mountings on Road Vehicles.
Mobile Construction Plant.
Hoppers.
Heavy Plant.
Conveyor Systems.
Air conditioning equipment
Agricultural equipment
Generator sets
Heavy plant & machinery
If you have any questions or you are looking the correct vibration damping sandwich mounts manufacturer, don't hesitate to contact us. We are available to help at sales@csrubber.com