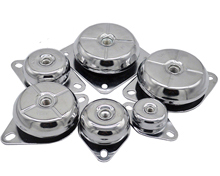 Bell anti vibration mounts
This bell type rubber mounts absorb vibrations and noise when the machines and components work in shear and compression loading,the mounts provide a flexible, high load capacity.the bell mounts are designed consisting of a steel base and a zinc plated or Chrome plated bell cover. And the mount can load from 60Kg to 2000kg.They are usually applied to mobile generator sets, vehicle cab mountings, vehicle body
suspensions, off road vehicle applications, prime power units, marine engines,pump motors,compressors

gearboxes and radiators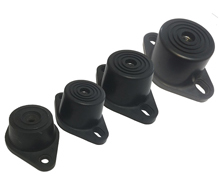 RM Mounts
These mounts are usually for pumps,fans,mobile equipments,Packaged air conditioning equipment and other equipments with speeds of 1000RPM upwards to reduce the noise
and vibration.there is a threaded top insert in the centre that used for bolting down the equipments to these mount,and anti-skid ribbing base.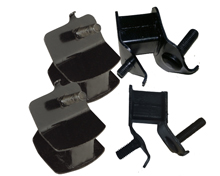 Diesel engine mounts
The diesel engine mounts are usually used for low-load diesel or petrol engines that having high levels of isolation. The mounts are comprised of two symmetrically-inclined metal parts on each side,thart make them more easy to support lower system frequencies and improved the anti-vibration function
Please feel free to contact us if you need any rubber mounts for your equipments,We can offer the rubber mounts according to your drawings.